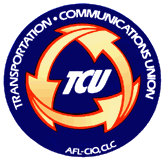 Dear Union Members and Friends:
Thank you for taking time to visit TCU's first World Wide Web site. We have been online since July 4, 1996. Our site has been modified countless times since its inception. Many changes have occurred based on ideas that we receive from our readers.
The purpose of this site is to present current union related news and information to our members and friends. Our goal is to promote union solidarity by keeping members informed, provide members with a pro-active convenient tool effectively to share ideas and participate in union matters.
All of the information provided in this website is available for use by any TCU member, officer, lodge, district or unit. You may reproduce the data obtained from this site only if used in a pro-union manner, in the spirit of union solidarity. We do require an acknowledgment as the source of any data or images obtained from our website.
This website is administered through the voluntary efforts of the officers of Lodge 6760, at no cost to our members or our Grand Lodge. We hope that you enjoy your visit with us. If you have any questions or comments, we welcome your ideas, constructive or otherwise. We invite you to enjoy the many linked pages of union information that we present.
In solidarity,
Steven Pequignot
Webmaster
Return to the Brotherhood Railway Carmen Home Page
www.tcu6760.com